Midland Credit Management (MCM) is a debt collection company that helps consumers resolve their past-due debt. So, who does MCM collect for? MCM services accounts that have been charged off or sold by the lender to companies like MCM. In turn, MCM connects with consumers and helps them create a payment plan for the purpose of resolving their outstanding balances. Learn more about MCM debt collection in this guide.
Who Is Midland Credit Management?
As you learn more about Midland Credit Management, you'll find that the company is engaged in the process of purchasing outstanding accounts from creditors and helping the account holders resolve their debt. MCM services accounts that creditors have sold to a company that's part of the MCM family. Some of the companies include MCM, Midland Funding, Asset Acceptance, and Atlantic Credit & Finance, among others.
What does Midland Credit Management do? MCM debt collection buys debt that's been sold off by a creditor after 180 days of non-payment by the debtor. After six months of non-payment, a creditor can sell the debt to MCM. From there, MCM works with the debtor to find a resolution to their debt through different payment options that are available.
Who Does Midland Credit Management Collect For?
Who does MCM collect for? MCM collects debt from companies across a variety of industries that offer financing services to consumers. The types of accounts that MCM collects include unsecured and secured personal loans, credit cards, lease-to-own, and others.

Consumer Finance Accounts
A consumer finance account is one that's offered to borrowers with low credit scores. Also known as subprime loans, they're usually offered when the borrower can't get traditional types of lending. Borrowers who take out these types of loans are considered high risk due to the increased default potential. Non-payment of a consumer finance account results in the debt being sent to a collection agency like Midland Credit Management.
Credit Cards
Credit cards are plastic payment cards that allow the user to make purchases through a line of credit from a bank or other financial institution. Credit cards have credit limits that restrict consumers from overspending. When consumers use a credit card, they borrow money that has to be repaid. Additionally, credit cards can come with fees and interest that add to the amount of money a consumer borrows for a purchase. If consumers aren't careful, it can be easy to fall into credit card debt by making purchases and not making on-time monthly payments. Most card issuers try to collect for up to six months after non-payment, then sell the debt to a debt collection agency like MCM.
Secured and Unsecured Loans
Secured and unsecured loans are two types of personal loans that are used for a number of purposes. A secured loan is one that has collateral guaranteeing the debt, such as a house or vehicle, and an unsecured loan has a personal guarantee for repayment. The lender may seize the collateral for a secured loan, sell it to recover money, and send the balance to collections after three to six months of non-payment. An unsecured loan typically goes to collections anywhere between three to six months after the last payment. Lending institutions that provide these loans are some of the most common types of institutions Midland Credit Management collects for.
Lease-to-Own Financing
Lease-to-own financing, also known as rent-to-own, is used to buy furniture and other high-ticket items on a payment plan that usually doesn't require a credit check. Defaulting on a lease can result in the repossession of the items on lease, with the remaining balance owed may be sent to collections. Each state has its own laws regarding the handling of a lease-to-own contract, including defaulting, which means the timeframe in which an account goes to collections differs from state to state.
How Do You Resolve a Collections Account With Midland Credit Management?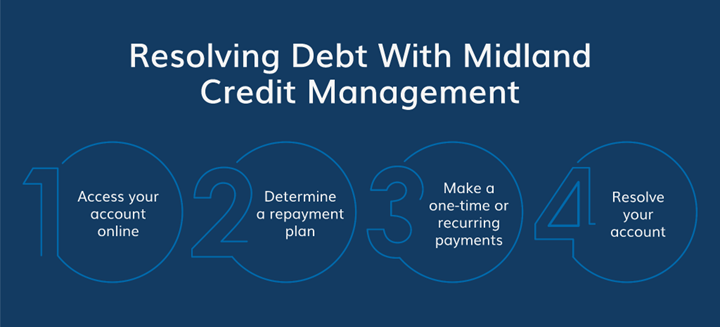 Resolving a collections account with MCM is straightforward and easy. You can go online to their website and set up an account or give them a call to speak with one of their account managers. They can discuss the benefits of resolving your debt by creating a custom payment plan or paying off the balance all at once.
Making an effort to pay off your debt works in your favor by helping you rebuild your credit and putting the reasons why you defaulted in the past. Working on your credit rating and future financial goals can help you stay motivated to pay off your debt.
What Are MCM's Payment Options?
MCM accepts multiple types of payments to accommodate your preferred method of payment. They include:
Pay online
Over the phone
By mail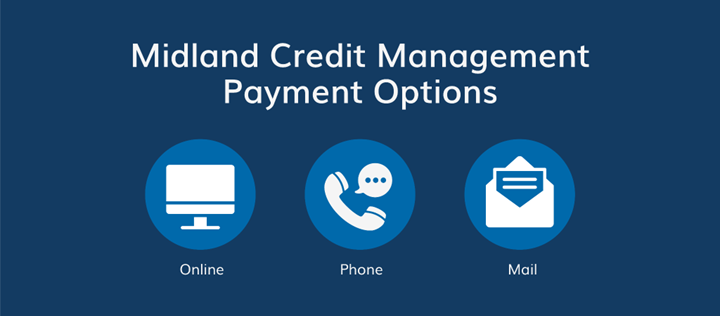 The online payment portal provides you with a complete overview of your account. You can look at past payments and current balances, update your contact information, and make communication requests. If you prefer to pay by phone, you can call and talk to one of Midland Credit Management's representatives seven days a week by calling (877) 653-5193. They're available Monday through Friday from 8 a.m. to 12 a.m. Eastern time and Saturday and Sunday from 8 a.m. to 7:30 p.m. ET.
If you prefer to pay by mail, you can mail a check, money order, or cashier's check in the provided return envelope and address it to:
320 E. Big Beaver Rd., Suite 300
Troy, MI 48083
Make sure to include your account number with your payment so it's credited in a timely manner. Also make sure to put your payment in the mail with sufficient time for it to reach them by the payment date.
Wrapping Up: Who Does Midland Credit Management Collect For?
You may find yourself wondering who MCM collects for when they contact you for collecting on your debt. Midland Credit Management collects the debt it purchases from a variety of retailers and creditors, but will also put the name of the original debt holder on their communications so you know where the debt originated from.
As a reputable collections agency, MCM understands it can be difficult to find the funds to pay your debt, but they have insights that help you learn how to create a budget and fit your debt payments into your monthly income. At Midland Credit Management, their goal is to help you become an informed consumer so you can stay in control of your finances. They can also address a variety of topics including the most common debt collection myths. Their insights can show you the way to create a better financial picture for yourself and avoid defaulting on your debt in the future.