Midland Credit Management (MCM) works to help people resolve their outstanding debts and live a life free from the pressures of unpaid bills. MCM buys debt from original creditors who have closed out your original account because of non-payment. If they've bought your outstanding debt, they'll contact you to discuss the creation of a payment plan that aligns with your current financial situation.
After MCM has bought your account, they'll contact you to inform you of the change in status of your debt. The original lender no longer owns your account and won't contact you about its status or accept payment. Instead, MCM now owns the debt and will contact debtors with their letterhead on a letter or identify ourselves clearly during a phone call or email. They're not a scam and are interested in helping you pay off your outstanding balance so you can find relief from debt collection attempts.
How Does Midland Credit Management Work?
MCM is a debt collection company that purchases debt from original creditors. The original creditors can include lease-to-own companies, credit card issuers, store credit providers, and private lenders among others. When a debtor stops paying on their line of credit or loan, the creditor eventually sells the outstanding debt to a third party for collection. The sale of the debt typically happens anywhere between three to six months, and when MCM buys the debt, it takes over the collection actions.
After MCM has contacted you about your outstanding debt, you can choose from several payment options that suit your personal preferences for making payments.
Midland Credit Management: Is It A Scam?
You might be wondering — what is Midland Credit Management Inc.? After receiving your first communication from MCM, this is a common question. It's also normal to wonder if MCM debt collection is a scam that's trying to steal money from you. Rest assured that MCM is a legitimate organization that engages in collecting outstanding debts. They work with you to show you the benefits of resolving your debt, offer you different payment options, and help you get your finances back on track.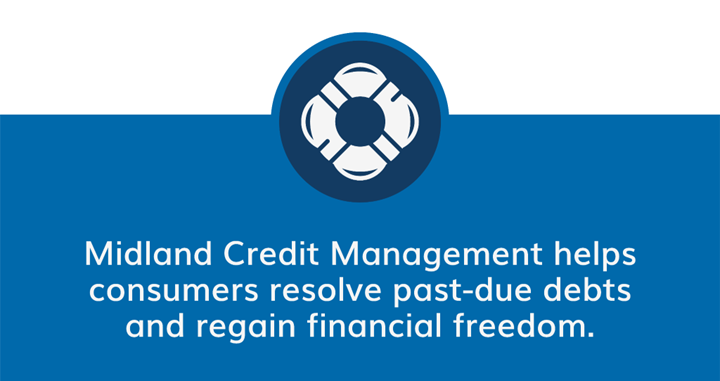 MCM respects the fact that consumers have rights and deserve to be treated with dignity throughout every interaction with MCM's staff. That includes adhering to all federal, state, and local laws that apply to the debt collection process and MCM's own Consumer Bill of Rights. At no point does MCM wish to antagonize someone further, especially after they've been dealing with financial hardships. Instead, MCM is dedicated to helping you stay motivated to pay off your debt and move forward from the financial stress you may be dealing with.
Midland Credit Management: Who Do They Collect For?
As you learn about Midland Credit Management, you'll find they buy past-due accounts from a variety of lenders. MCM is one of the largest buyers and owners of unpaid debts, and leverages its size and expertise to help debtors pay off their debts and restore their financial stability.
Once a debt is sold by a lender, it's no longer under their control. Instead, MCM debt collection handles the collection of the outstanding debt. You'll receive a letter or another form of communication that states the original owner of the debt and how much is owed, but you pay MCM instead of the original lender. Some of the types of creditors MCM buys debt from include: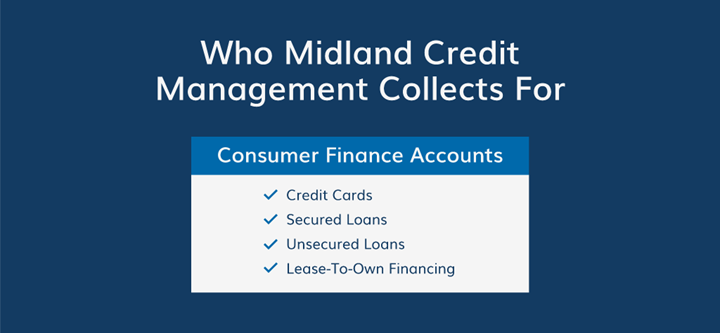 Credit cards
Secured loans
Unsecured loans
Lease-to-own financing
How Can Midland Credit Management Help Customers?
So, what does Midland Credit Management do? MCM helps customers resolve their debts that have reached the point of collection, and helps them by offering different payment options that eventually brings the debt balance to zero. Someone who has an account that's been sent to MCM debt collection services can set up a payment account online, by mail, or make a payment over the phone.

Not paying your debt doesn't make it go away. The original creditor wants to get paid, and it will do so by any means necessary. That means contacting you through phone calls, emails, and letters in the mail to get you to respond and pay your bills. If you don't respond, the creditor may sell the debt to a debt collector such as Midland Credit Management. Working with MCM to resolve the outstanding balance can help put an end to the constant attempts to contact you.
MCM does more than work with debtors to pay off their debt. A free resource library is available and features topics that include learning how to create a budget, some of the different methods for paying off debt when extra money is available, and debunking debt collection myths. The topics in the resource library help to educate consumers in financial management and help them avoid falling into more debt after paying off their outstanding debts.
Key Takeaways: Who Is Midland Credit Management?
Midland Credit Management is a debt collector that buys delinquent consumer credit accounts from creditors across a variety of industries. They then reach out to you to inform you that they now own your debt and may offer you different options for its repayment. If you're still not sure about who Midland Credit Management is and whether they're a scam, they can assure you that they're a legal entity that's operating within the boundaries of all applicable laws. To learn more about Midland Credit Management, visit their website today.
Getting into debt isn't uncommon, and it can be devastating to your mental health and finances. Midland Credit Management can help you put your debt in the past so you can get relief from its pressures and move forward with your life and financial goals.