Employees at Encore's Midland Credit Management (MCM) Costa Rica site can invest in their futures while giving back to their community and each other. Since 2013, the Adelante program (Spanish for "go forward") has provided educational reimbursement to eligible employees for completing projects that have a positive impact either inside the company or in their community.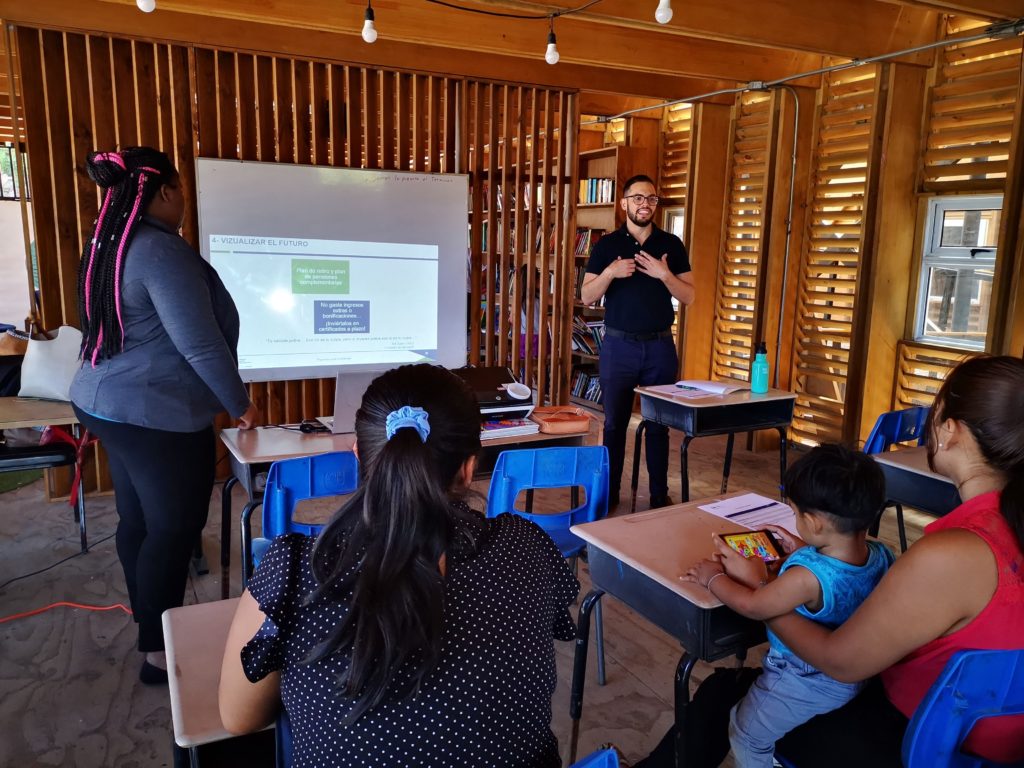 Employees become eligible for Adelante after their first six months with the company, and the reimbursement they may receive grows the longer they stay at MCM — up to 90% of tuition costs or 1 million colones (approximately $1,600 USD).
This benefit gives Costa Rica employees the opportunity to have a personalized career plan in any profession they choose and gives them the chance to access a private educational system that could be challenging to cover if not for this level of support.
For Alejandro Vargas, a Quality Coach who started working at MCM Costa Rica at age 18, Adelante was a way to start working without putting his studies on hold.
"I did not want to choose between work and studies, and Adelante gave me the chance to do both," he said.
Vargas is using Adelante to pursue a bachelor's degree in business administration and plans to keep growing professionally at MCM, where he audits calls and correspondence with consumers to help ensure the company is following compliance requirements.
"Adelante has given me such valuable help in developing my professional career,"
"The program has given me the economic support to pay above 90% of my career development costs."
For his community project, Vargas participates in Money Matters, an MCM-created financial literacy program taught by employee volunteers to youth, teens and adults, including fellow colleagues. Vargas helped teach key financial management lessons to his peers to earn his tuition reimbursement.
Account Manager Monica Salazar enjoys the challenges of her role, and she pushes herself every day to be a better employee and team member. Thanks to Adelante, she will soon be graduating from the business administration program at the Latin American University of Science and Technology (ULACIT).
Salazar is interested in the topic of climate change. "I focus my projects in this area and encourage others to do their part to protect the environment," she said.
Some of the projects she has developed include workshops on appropriate disposal of used cigars, soap making with used cooking oils, and replacement of conventional products with eco-friendly products.
Her future goals include furthering her education by learning more about finance and possibly obtaining an MBA in another country.
Adelante participant Michelle Gamboa, Senior Quality Coach at MCM, said the program is helping her pay for her pursuit of a degree in medicine and surgery.
"I finally found a way to fulfill my dream of being a doctor," she said. "As soon as I was able to apply, I did it, and I am very happy with the results. It would be very difficult for me to pay for all the courses without this support."
Gamboa has led workshops with her fellow employees covering COVID-19 prevention, first aid, self-love (e.g., instructions for skin, hair and body care), and breast cancer awareness.
"Growing up in a less privileged community has not only posed financial and educational challenges but has also helped me realize the value of a college education," said Gamboa, who is the first person in her family to study medicine and surgery.
As a Senior Quality Coach, Gamboa audits calls for MCM's International Operations (IOCC), Internal Legal (IL) and Legal Outsourcing (LO) teams.
"I enjoy dedicating myself to a job where honesty and transparency are the main focuses," she said. "Helping others fills me with joy. I would love to give back to MCM for everything it has given me."
More than 200 employees have participated in Adelante since 2013, and more than 550 projects have been accomplished. Some of the projects completed through Adelante are community projects and include participation in Bandera Azul Ecológica ("Ecological Blue Flag"), a certification program for Costa Rica's communities to demonstrate they are keeping their people healthy and educated, and their environment clean.
As part of Bandera Azul Ecológica, MCM employees volunteered to help the company reduce electrical energy waste, garbage waste, fossil fuels usage, water usage, and oil contamination, in addition to instructing employees how to use charcoal in gardens.
MCM Costa Rica was first certified by Bandera Azul Ecologica in 2020 and is currently awaiting renewal for a third consecutive year.
Other internal projects (i.e., projects to serve fellow employees) completed through Adelante include Open Communication Model training, yoga training, Zumba classes, English classes, Women@Encore trainings, self-love trainings, pet care, Microsoft Excel workshops, emotional intelligence and emotional balance workshops, book clubs, and workshops teaching LESCO, which is Costa Rican sign language used by people who are deaf or hard of hearing.