Midland Credit Management believes in giving back to our community. As part of Encore Capital Group, we were excited to participate in Encore's annual "Encore Connected Week," a series of events dedicated to giving back to the community. During the week-long celebration, Encore employees participated in a variety of volunteer activities and charitable initiatives, supporting local organizations and causes. Through its commitment to corporate social responsibility, Encore aims to create positive social and environmental impacts, both within its organization and in the communities we serve.

---
Over 5,900 Items and 9,400 Pounds of Food Donated as Encore Connected Week Culminated in Global Outpouring of Community Support.
During our second annual Encore Connected Week in November, we took time to celebrate the Values that unite our company. In the spirit of our "We care" Value, the week culminated with our sites around the world identifying community organizations to support. Local Site Champions volunteered to lead these efforts on behalf of their teams, and hundreds of our colleagues participated.
The outpouring of generosity was incredible! Colleagues around the world answered the call to extend kindness to those in need by donating essential items such as food, warm clothing and toiletries. Here's a snapshot of their tremendous efforts:
20 local charities/organizations supported around the world
5,900+ individual items donated
9,400+ pounds of food donated, along with gift cards and monetary contributions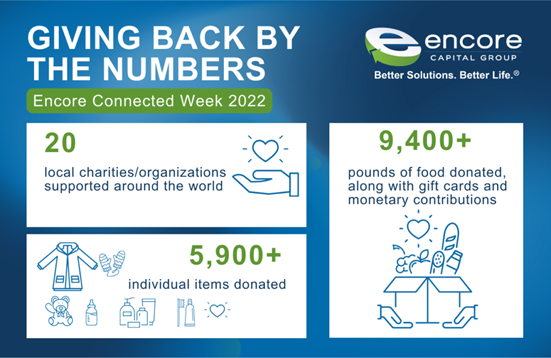 At our locations across the U.S., colleagues supported a local food bank and rescue mission, as well as organizations like the YMCA and Salvation Army. Midland Credit Management (MCM) Division Manager Tim Bolin, who served as the site champion for Phoenix, shared, "It truly brings me joy to see not only Phoenix but all parts of Encore embrace helping others in need."
The team in India chose to support our long-time partner, Rainbow Homes, which is dedicated to caring for vulnerable, abandoned, and orphaned children. India's site champion, Corporate Social Responsibility (CSR) Specialist Tanuja Pandey, said the India team's efforts tie back to their philosophy that CSR extends beyond charity.
"Our work is a means to create self-sustaining communities that we can nurture for a long period of time," she said. "It's not only our management team but each MCM employee who shares the same sentiment of giving back to the community."
Across Europe, Cabot colleagues supported several food banks, as well as charities focused on the homeless and elderly people in need. Xabier Alberdi Oyanguren, EU Head of Data Protection and Risk & Compliance, served as the site champion in Spain. In reflecting on why he volunteered to lead his local effort, he said, "There are always things to do to help others, and I enjoy participating in these types of initiatives that demonstrate the caring that we have globally."
Fellow Cabot site champion Leah Ralton-Hunter, Business Performance Manager – Business Solutions (LBG) in Scotland, shared sentiments expressed by many colleagues who participated in the charitable giving efforts.
"I volunteered to be part of this global activity as myself and my team are passionate about giving back to those in need," she said. "I am extremely fortunate in the current climate to have a roof over my head, food on the table and an incredible support network both inside and outside of the workplace. Sadly, I know that is not the case for so many others, and I think it is important we all do our bit to help where we can."
The charitable giving efforts around the world were a fitting end to an Encore Connected Week that was all about the Values that are so deeply engrained in our culture. The generosity shown by colleagues around the world showed just how much we care about our communities and some of the most vulnerable among us.
Costa Rica Facilities Coordinator and CSR volunteer Michelle Calvo summed up the experience well, saying, "It makes me feel like part of the solution… I feel proud for honoring my integrity and Values."