September 15 marks the beginning of Hispanic Heritage Month, a month-long observance recognizing the history, culture, and contributions of Hispanic/Latino/Latinx communities in the United States. As we continue to cultivate and foster an environment that embraces our people and the communities we serve, we're joining the celebration by elevating our own Hispanic/Latino/Latinx voices here at Encore.
We recently connected with three colleagues—each contributing to our Mission through a variety of roles—to hear their unique perspectives on their culture, traditions, and to celebrate the joy of being authentically who they are, here at Encore.
Meet our colleagues, all with Encore's Midland Credit Management (MCM) business in the United States.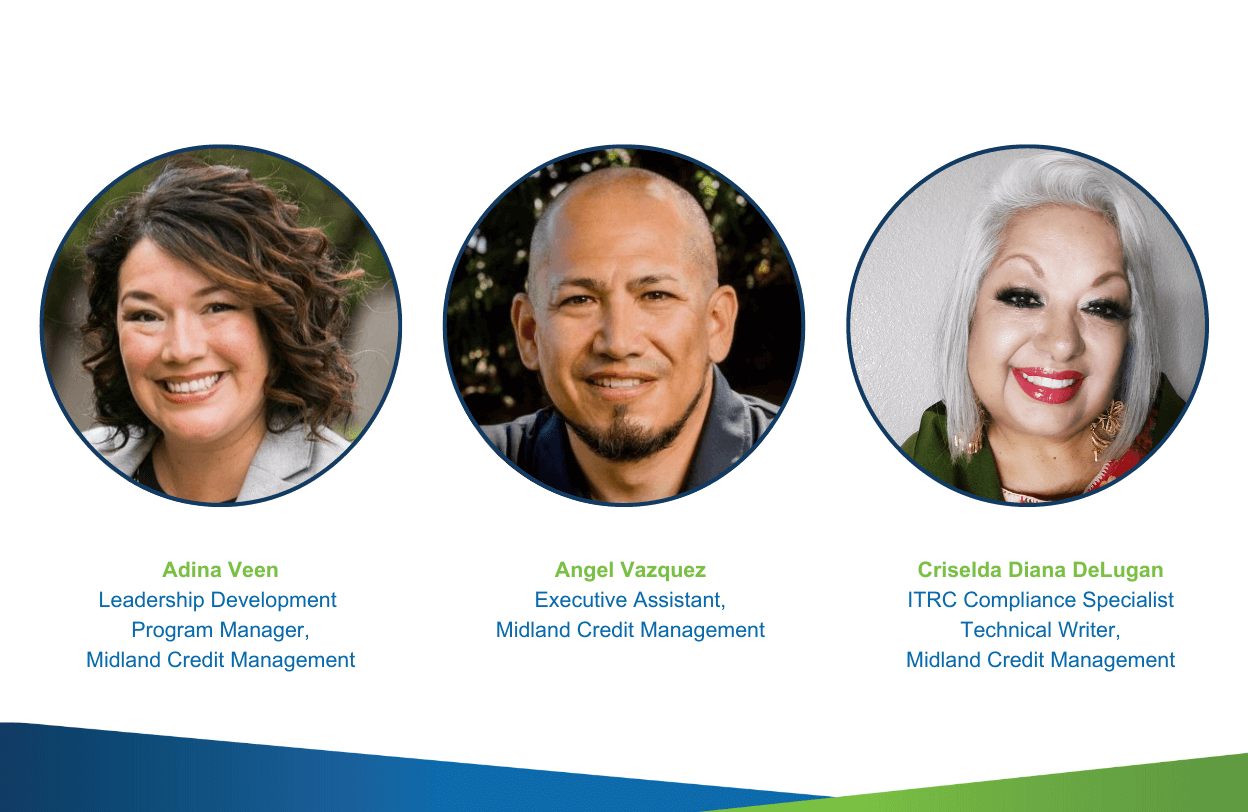 Adina Veen: Has been with the company two-and-a-half years and is a Program Manager with the Leadership and Development team.
Angel Vazquez: Is the Executive Assistant to Encore and MCM's SVP & Chief Information Officer, Monique Dumais-Chrisope, and MCM's SVP of Corporate & Government Affairs, Sarah Cosgrave. Angel has been with the company four years. 
Criselda Diana DeLugan: Has enjoyed a tenure of five-and-a-half years. Criselda serves as Compliance Specialist and Technical Writer with the Information Technology team.
The Hispanic/Latino/Latinx community encompasses many nationalities and backgrounds. Can you give us some background on your heritage
Veen: I am Mexican-American. My mother was born in Sabinas Hidalgo, Nuevo Leon. She moved to California as a young girl with her family as migrant farmworkers, eventually settling in Los Angeles. My father's parents were born in Whittier, California after their families moved from Guadalajara, Mexico as part of the Bracero Program. My paternal great grandmother was orphaned at a young age, so part of our lineage remains unknown.
Vazquez: My Father is Mexican from Guanajuato, Mexico and my mother is Mexican-American, and her parents were immigrants from Mexico City, Mexico.
DeLugan: I am a proud global citizen with many cultures that influence my genetics. I'm mostly Indigenous American from Mexico, followed by Spanish, along with a broad mixture of European, Jewish, Basque, and African. But the traditions and culture that have most influenced me are my deep roots in the American Southwest, particularly Arizona, and my heritage from Veracruz, México.
What do you love the most about your Hispanic/Latino/Latinx heritage, or what are you most proud of?
Veen: I am most proud of the value we put in education and hard work. I love how strong our family bonds are and the music, oh the music! I love how we express our experiences through song and dance. 
Vazquez: The traditions, tightness of family relationships, and work ethic.  Oh yes, and you can't forget about our traditional Mexican food.
DeLugan: What don't I love about it?! I love that the American Southwest was once a part of Mexico, hundreds of years ago before borders existed. Whether it be a street or location name, architectural design, cuisine, music, arts, or even the daily words I use, the influence of old Mexico is everywhere if you pause to appreciate it. I'm also thankful that our Spanish language bridges the cultural divides of diverse Spanish speaking communities, as we are heterogenous communities.
What is one of your favorite cultural traditions that you celebrate and wish others to know about? 
Veen: My favorite tradition is Día de Los Muertos. The ofrenda (altar) becomes a place for storytelling and celebrating the loved ones we have lost. I look forward to finding their favorite things to place on the ofrenda, sharing our family history with my children and cooking pozole for us all to enjoy. 
Vazquez: For me, it's the Mexican hat dance as it is common at our celebrations.  It began as a courtship dance and dates back to the 18th and 19th centuries. Today, it is commonly performed by dance groups as a celebration of our culture.
DeLugan: Similar to Adina, Día de los Muertos (Day of the Dead) is my favorite. Death comes to all. No matter where we come from, rich or poor, we all ultimately reach the same final destination. For those of us who celebrate it and particularly in Mexico, it is a culturally rich and profound celebration of life. 
Mexicans who practice Día de los Muertos annually on November 1 and 2 celebrate the memory of their dearly departed family members by decorating altars dedicated to their loved ones with cempasúchil (Mexican marigolds), papel picado (punched paper), catrinas (elegantly dressed female skeleton), velas (candles) and more. Día de los Muertos is such an impactful cultural tradition that the United Nations Educational, Scientific and Cultural Organization (UNESCO) proclaimed it an intangible cultural heritage of humanity in 2003 and officially inscribed it in 2008. This tradition was practiced by Mesoamerican groups centuries before the Spanish invaded México, including the Totonac people of Veracruz where my roots hail from. Día de los Muertos helps us preserve our ancestral history which is important to any culture.
In what ways has your heritage/background influenced your professional career?
Veen: Growing up, I knew our stories were not being fully told and that we had obstacles in our way that others did not. I chose a career in the nonprofit sector to empower others to take charge and breakdown barriers in the way of their success. I brought that passion to my current role where I continue to empower leaders of all levels and facilitate learning about diversity, equity, and inclusion.
Vazquez: My parents have been my greatest influence. They struggled and worked tirelessly without complaining, while teaching our family to focus beyond material things—all underpinned by maintaining our sense of authenticity. Being raised this way has taught me to be the best that I can be. I wholeheartedly believe that the only way to do that is by hard work, dedication, and integrity.
DeLugan: Being bilingual has offered me many business opportunities that I may not have had otherwise. Whether it was working with Spanish speaking consumers or trainees, being bilingual helped me make deeper connections and achieve positive results. Sharing my culture with coworkers has also allowed me to have more fulfilling business relationships. We are stronger as a company because of our unique backgrounds and more cohesive because we have true mutual respect for one another.    
What advice would you give to members of the Hispanic/Latino/Latinx community seeking to bring their talents to Encore/MCM to further their career?  
Veen: Set clear boundaries, ask questions, stay resilient and take care of yourself. When we speak up and ask difficult questions, they may not have the answers, and I encourage us all to play a healthy role in finding those answers.
Vazquez: Be your authentic self. Express yourself and don't hold back because of your race/ethnicity and be a model employee by bringing to the table the tools, tradition, and integrity that your heritage and family instilled in you.  
DeLugan: It's the same advice I would give anyone interested in sharing their talents to Encore/MCM: always be your authentic self. Celebrate your uniqueness. Our company genuinely celebrates diversity and inclusion. Our company's Mission, Vision, and Values, in pertinent part, remind us to always "put people first and engage with honesty, empathy, and respect." Here, we come from all walks of life, all socio-economic backgrounds, just like our consumers. When we approach our work embracing our authentic selves, we can focus on skill building and problem solving. In addition, sometimes we excel because we are different. Allow your true self to shine and someone is certain to notice.